One of the ways that I get inspired for Bible journaling is through Facebook. People post photos of their work to the group to inspire others. I don't post there often, but when I do, my most-noticed posts are usually my Bible journaling book headers.
I love narrowing down on a theme or focal point of a book and finding a way to illustrate it. This is how I do that – by illustrating the top few inches of the first page of each book. While I've only done a handful of books so far, they've had such a positive response that I thought it would be fun to share my process here. In this post, I'll go over how I do these Bible journaling book headers and show you some of my work!
Each book of the Bible is complex and multi-faceted, so it's difficult to narrow any book down to a simple illustration. That's why I like to be pretty familiar with a book before I do my header; I want to make sure that if something in that book really speaks to me, I can capture it well. For that reason, the first step in my process is Bible study or research. I love to dig deep and get to know the Bible, so at the very least I do a lot of background reading on a book before I get started.
After I feel like I know the core themes of a book pretty well, some ideas start to come to me for how to represent it. Sometimes my ideas are inspired by a Bible study I've done, or by nature, or by language in the text. After an idea comes to me, I begin to sketch it out in pencil.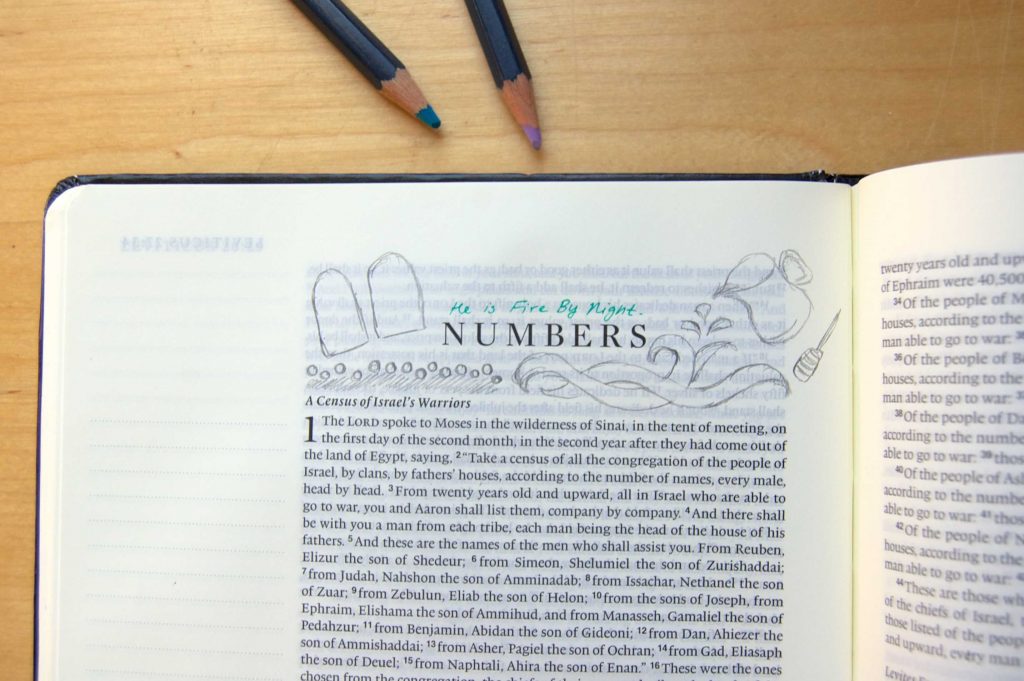 As you can see, there are a couple of things going on in the illustration above. The first is the two plates on which the 10 Commandments are written; under that is a sketch of a group of people; and on the right side is milk and honey twisting together, to represent the promised land.
After I sketch out my idea in pencil, I trace it in pen (I use these Pigma Microns – this is an affiliate link!). Then I go through with colored pencils, either standard or watercolor ones, and fill it in. Pretty simple, but the results can be really nice!
Above is one of the earlier book headers I did, of Genesis. Here, you can see the wind on the waters (רוח or 'ruach' in Hebrew) blowing over the word Genesis and onto the Earth. In hindsight I wish I had done a lot more with this book header, because there is just so much in Genesis!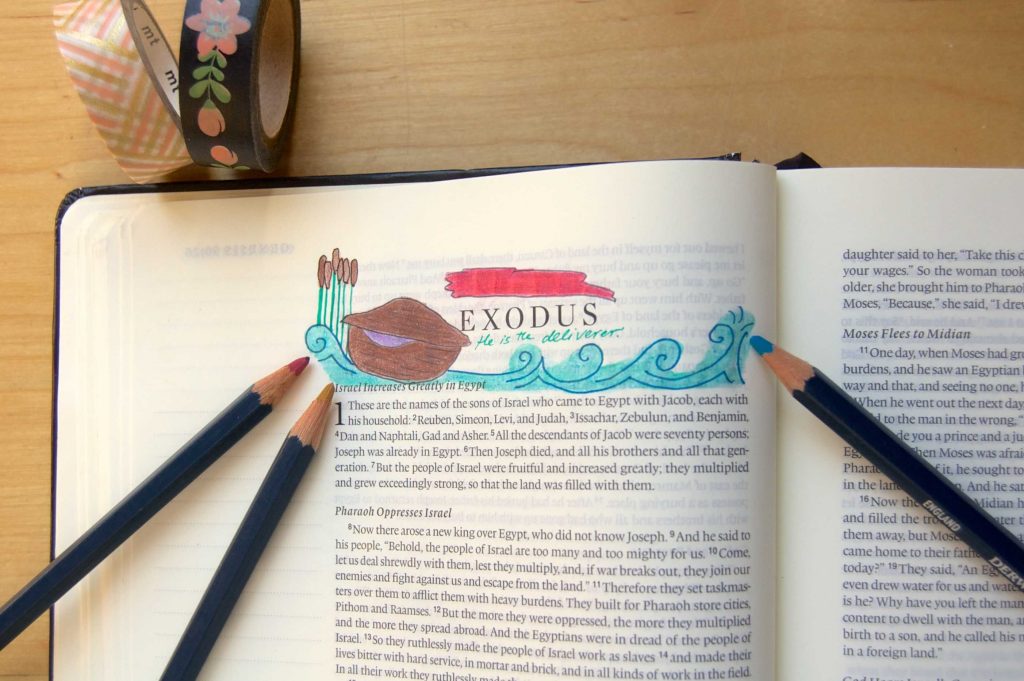 Here you see Moses' basket from Exodus, drifting on the water. The red above the word Exodus is supposed to represent the blood that the Hebrew people used to mark their doors to stay under God's protection in Exodus 12.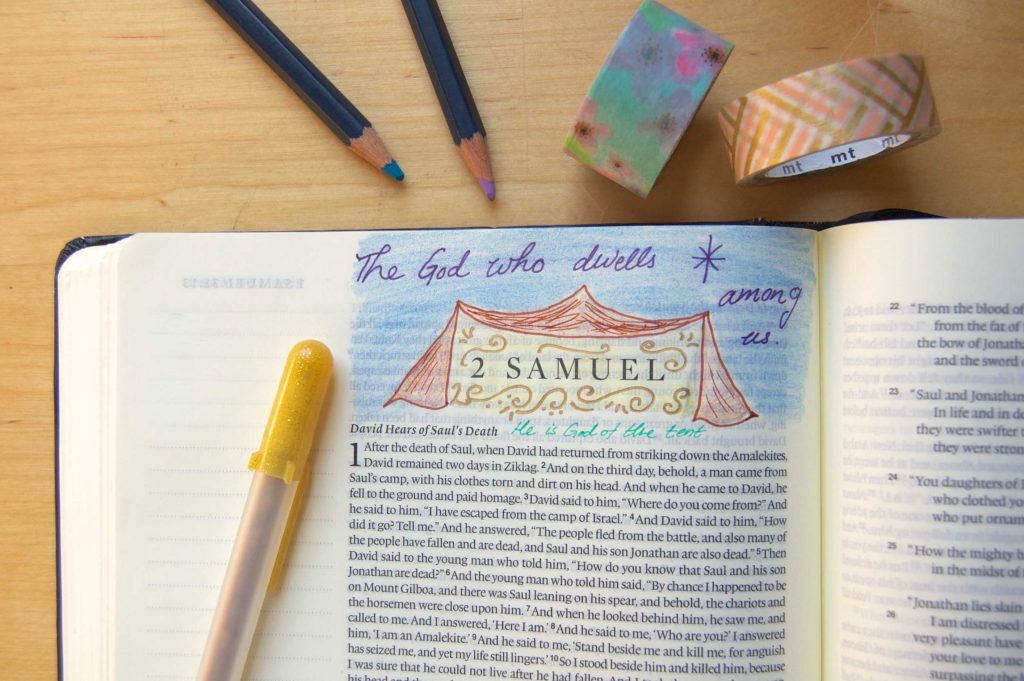 This Bible book header is inspired by a sermon from my pastor about 2 Samuel and God being a "God of the tent" – one who dwells with us, no matter where we are.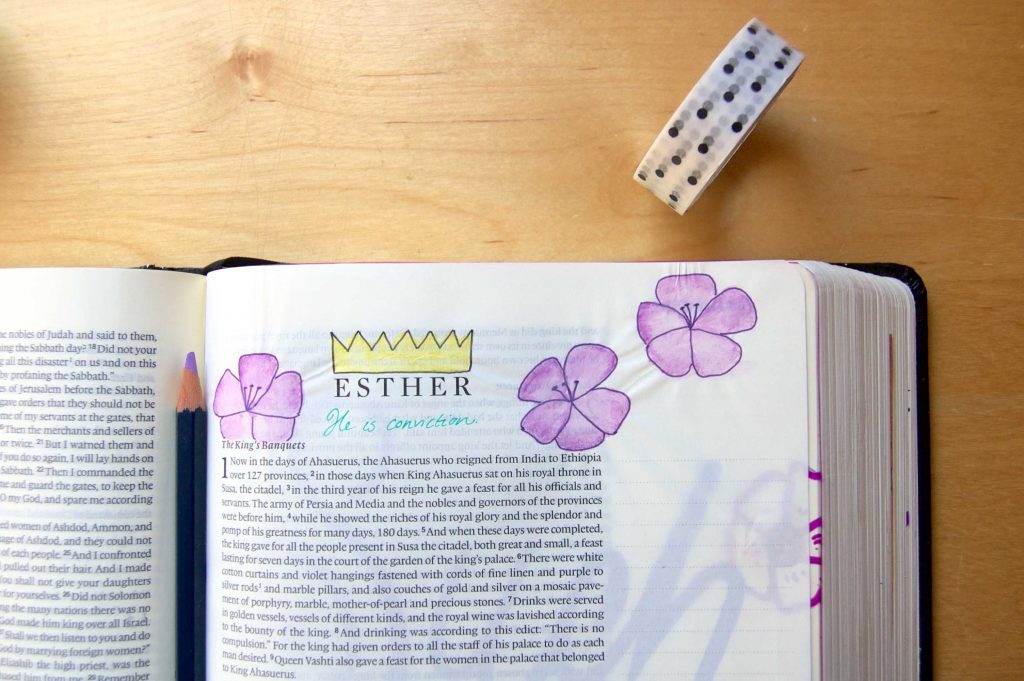 Esther's book header was inspired by the combination of her femininity and strength, represented by flowers and a crown, respectively. The purple of the flowers represents royalty, but the shape of the flowers was inspired by the flower motif in a study I did on Esther a while ago.

Here's my Jonah header – the last one I'll be showing today! The compass represents Jonah's struggle to make the right choices and follow his calling. The motif itself is borrowed from another study I did!
Thanks so much for checking these out and learning a little bit about the thought that goes into each design!
Have you ever done a book header? Is your process anything like mine? Let me know in the comments!