I love resolutions, so I was really intrigued by one word resolutions when I heard of them. In recent years, some people have started living by "one-word resolutions," like Love, Kindness, Breathe, or Abide, to guide them in the new year. I decided to join them. As I mulled my word over, I thought, wouldn't it be great to kick off my new year by journaling my word? What a wonderful way to reflect on my goals, while finding encouragement for them at the same time!
Today, I'm going to go over how to art journal your one-word resolution in your Bible, and give you some helpful verses for the most popular one-word resolutions.
1. Find your one word
What is a one-word resolution? Basically, it's a "theme" or "focus" word to guide you through your choices and hard times this coming year. Here is an article you can use to find yours. In case you needed some extra inspiration, I asked around my Bible journaling community for what everyone's one-word resolution was and made a word cloud!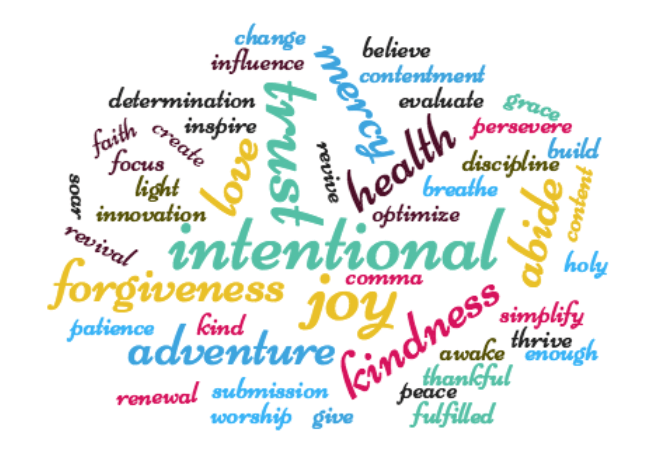 2. Find a related verse
This is the fun part! Do some digging in your memory, your Bible, and the Internet to find the perfect verse for your one-word resolution. My favorite tool for this is Open Bible's topic search, where you can type in a keyword or phrase and see related Bible verses.  However, to make it even easier for you, I gathered some great verses on the most popular one-word resolutions and laid them out for you! Feel free to save the infographic, or read below for the full verses!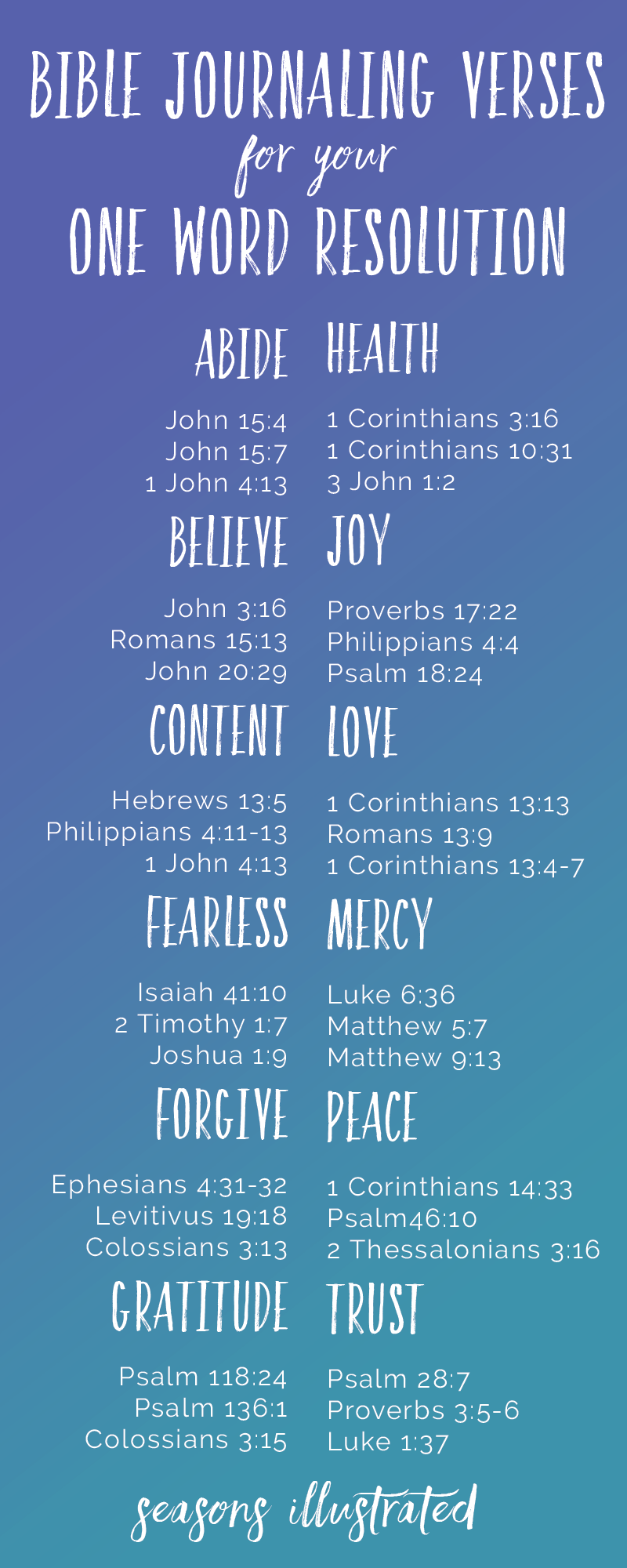 Abide
"Abide in me, and I in you." (John 15:4)
"If you abide in me, and my words abide in you, ask whatever you wish, and it will be done for you." (John 15:7)
"By this we know that we abide in him and he in us, because he has given us of his Spirit." (1 John 4:13)
Believe
"For God so loved the world, that he gave his only Son, that whoever believes in him should not perish but have eternal life." (John 3:16)
"May the God of hope fill you with all joy and peace in believing, so that by the power of the Holy Spirit you may abound in hope." (Romans 15:13)
"Jesus said to him, "Have you believed because you have seen me? Blessed are those who have not seen and yet have believed." (John 20:29)
Contentment
"Keep your life free from love of money, and be content with what you have, for he has said, "I will never leave you nor forsake you." (Hebrews 13:5)
"Not that I am speaking of being in need, for I have learned in whatever situation I am to be content. I know how to be brought low, and I know how to abound. In any and every circumstance, I have learned the secret of facing plenty and hunger, abundance and need. I can do all things through him who strengthens me." (Philippians 4:11-13)
"Now there is great gain in godliness with contentment, for we brought nothing into the world, and we cannot take anything out of the world. But if we have food and clothing, with these we will be content." (1 Timothy 6:6-7)
Fearless
"Fear not, for I am with you; be not dismayed, for I am your God; I will strengthen you, I will help you, I will uphold you with my righteous right hand." (Isaiah 41:10)
"For God gave us a spirit not of fear but of power and love and self-control." (2 Timothy 1:7)
"Have I not commanded you? Be strong and courageous. Do not be frightened, and do not be dismayed, for the Lord your God is with you wherever you go." (Joshua 1:9)
Forgive
"Let all bitterness and wrath and anger and clamor and slander be put away from you, along with all malice. Be kind to one another, tenderhearted, forgiving one another, as God in Christ forgave you." (Ephesians 4:31-32)
"You shall not take vengeance or bear a grudge against the sons of your own people, but you shall love your neighbor as yourself: I am the Lord." (Leviticus 19:18)
"Bearing with one another and, if one has a complaint against another, forgiving each other; as the Lord has forgiven you, so you also must forgive." (Colossians 3:13)
Gratitude
"This is the day that the Lord has made; let us rejoice and be glad in it." (Psalm 118:24)
"Give thanks to the Lord, for he is good, for his steadfast love endures forever." (Psalm 136:1)
"And let the peace of Christ rule in your hearts, to which indeed you were called in one body. And be thankful." (Colossians 3:15)
Health
"Do you not know that you are God's temple and that God's Spirit dwells in you?" (1 Corinthians 3:16)
"So, whether you eat or drink, or whatever you do, do all to the glory of God." (1 Corinthians 10:31)
"Beloved, I pray that all may go well with you and that you may be in good health, as it goes well with your soul." (3 John 1:2)
Joy
"A joyful heart is good medicine, but a crushed spirit dries up the bones." (Proverbs 17:22)
"Rejoice in the Lord always; again I will say, Rejoice." (Philippians 4:4)
"This is the day that the Lord has made; let us rejoice and be glad in it." (Psalm 18:24)
Love
"So now faith, hope, and love abide, these three; but the greatest of these is love." (1 Corinthians 13:13)
"For the commandments, "You shall not commit adultery, You shall not murder, You shall not steal, You shall not covet," and any other commandment, are summed up in this word: "You shall love your neighbor as yourself." (Romans 13:9)
"Love is patient and kind; love does not envy or boast; it is not arrogant or rude. It does not insist on its own way; it is not irritable or resentful; it does not rejoice at wrongdoing, but rejoices with the truth. Love bears all things, believes all things, hopes all things, endures all things." (1 Corinthians 13:4-7)
Mercy
"Be merciful, even as your Father is merciful." (Luke 6:36)
"Blessed are the merciful, for they shall receive mercy." (Matthew 5:7)
"Go and learn what this means, 'I desire mercy, and not sacrifice.' For I came not to call the righteous, but sinners." (Matthew 9:13)
Peace
"For God is not a God of confusion but of peace." (1 Corinthians 14:33)
""Be still, and know that I am God." (Psalm 46:10)
"Now may the Lord of peace himself give you peace at all times in every way. The Lord be with you all." (2 Thessalonians 3:16)
Trust
"The Lord is my strength and my shield; in him my heart trusts, and I am helped; my heart exults, and with my song I give thanks to him." (Psalm 28:7)
"Trust in the Lord with all your heart, and do not lean on your own understanding. In all your ways acknowledge him, and he will make straight your paths." (Proverbs 3:5-6)
"For nothing will be impossible with God." (Luke 1:37)
3. Journal!
Break out your paints, pencils, and Gelatos and make something that represents your hopes and dreams for the new year. When you're done, be sure to share in the Seasons Illustrated Facebook Group!