One of the biggest joys of this year has been seeing the Advent Illustrated project flourish and grow. My favorite part by far is seeing everyone's artwork in the Facebook group and on Instagram. People from all denominations, walks of life, and artistic abilities are coming together to share their work and meditations on the daily readings. Best of all is seeing the different interpretations of each verse. There are common themes, but each person brings their own vision to the table.
Today I'm sharing my first weekly round-up on Advent Illustrated. I'll be including each day's verse and a few of my favorite pieces from that day. With over 2,000 people participating, there is no way for me to include everyone's art – though I wish I could! This is not meant to be a popularity contest or a showcase of artistic skill (though all the work in the group is beautiful). Rather, I'm trying to show a range of different interpretations of the same verses from each day. To see more, join the Facebook group!
Monday, November 30th 2015 //  Light
"In the beginning, God created the heavens and the earth. The earth was without form and void, and darkness was over the face of the deep. And the Spirit of God was hovering over the face of the waters. And God said, "Let there be light," and there was light. 4 And God saw that the light was good." (Genesis 1:1-4)

"In the beginning was the Word, and the Word was with God, and the Word was God." (John 1:1)
This was a great day, because there were so many different interpretations of the same verse! Some people drew light bulbs, matchsticks, or flashlights. Others drew lighthouses, the sun, or even the cosmos. Here are some examples!
I love the use of pink and yellow in this image by Leah V. E. The twinkle lights are so lovely, too!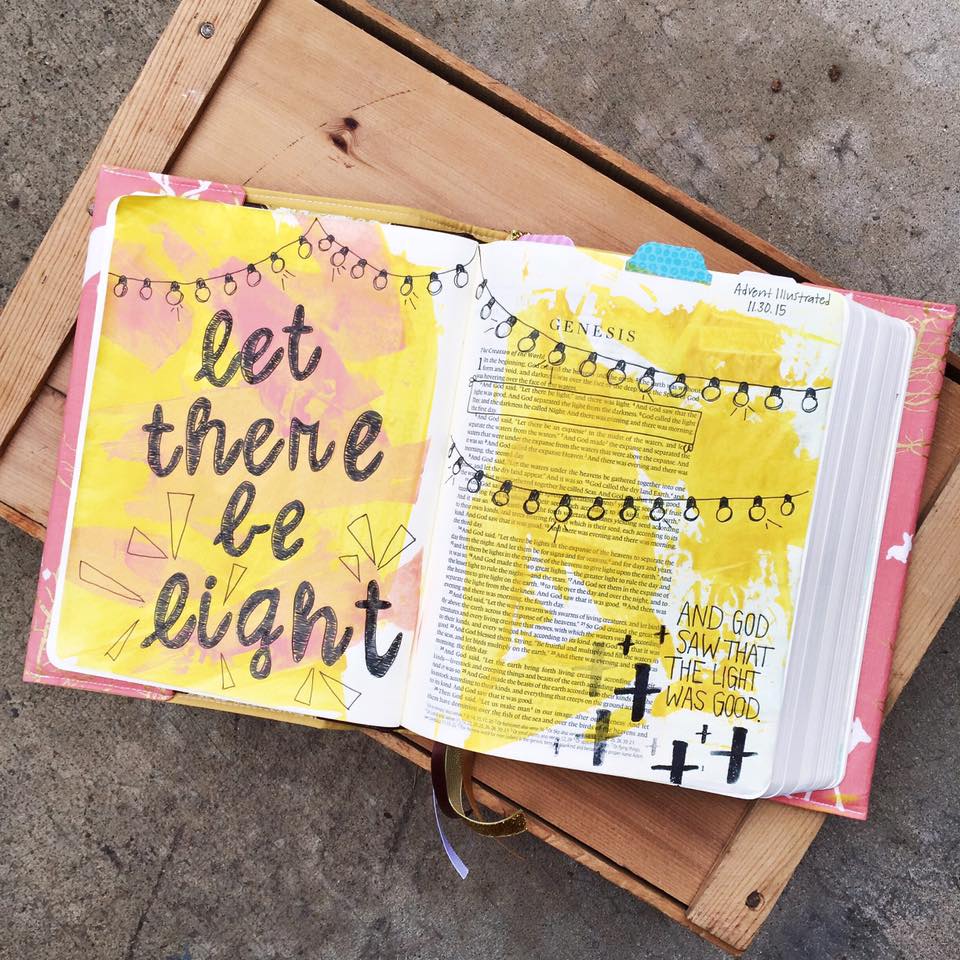 Leah V. E. // LeahVanErt on Instagram
Lighthouses have a special spiritual meaning to me, so I was really drawn to this beautiful lighthouse image by Kathie B in our Facebook group. The colors and sketching is so beautiful!
Kathie B
I also love the beautiful and warm simplicity of this image by Carol G. on Facebook! I love to see people journaling in a notebook because they bring their own degree of inspiration and originality to it, and often even write out the verses word for word!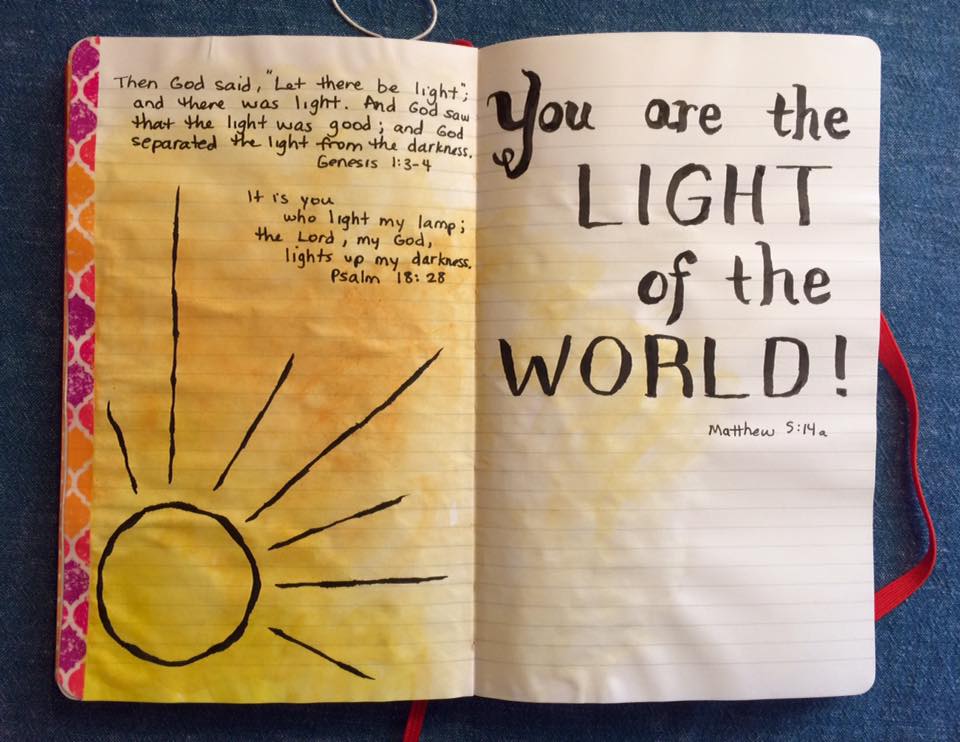 Carol G.
Tuesday, December 1st 2015 //  Beauty
"And God saw everything that he had made, and behold, it was very good." (Genesis 1:31)

I loved seeing everyone's different interpretations of beauty in the world. Some did fields of flowers, others animals living in harmony together, and even images of beauty we see in the world today.
This one really spoke to me because it was so fun and showed such loving diversity. Thanks to Sandy KP for sharing!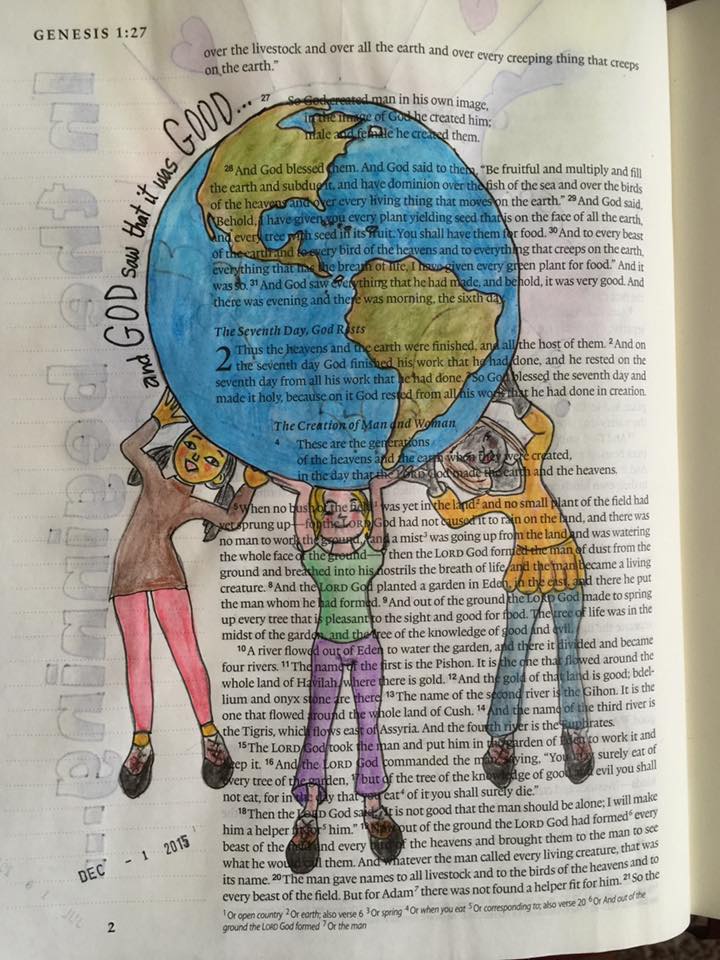 Sandy KP
This lovely page by Catherine CM on Facebook is just so beautiful! I loved seeing her interpretation and I just love the lettering! Well done!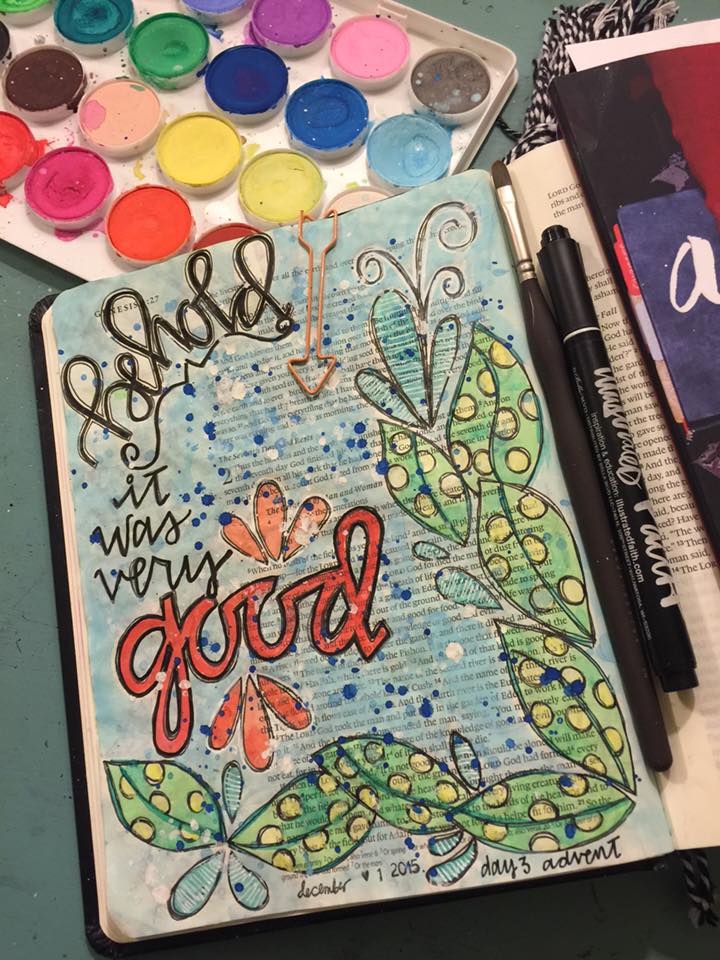 Catherine CM
I also love this beautiful sunset mountain range by Jill MC It really captures some of the beauty of the natural world for me!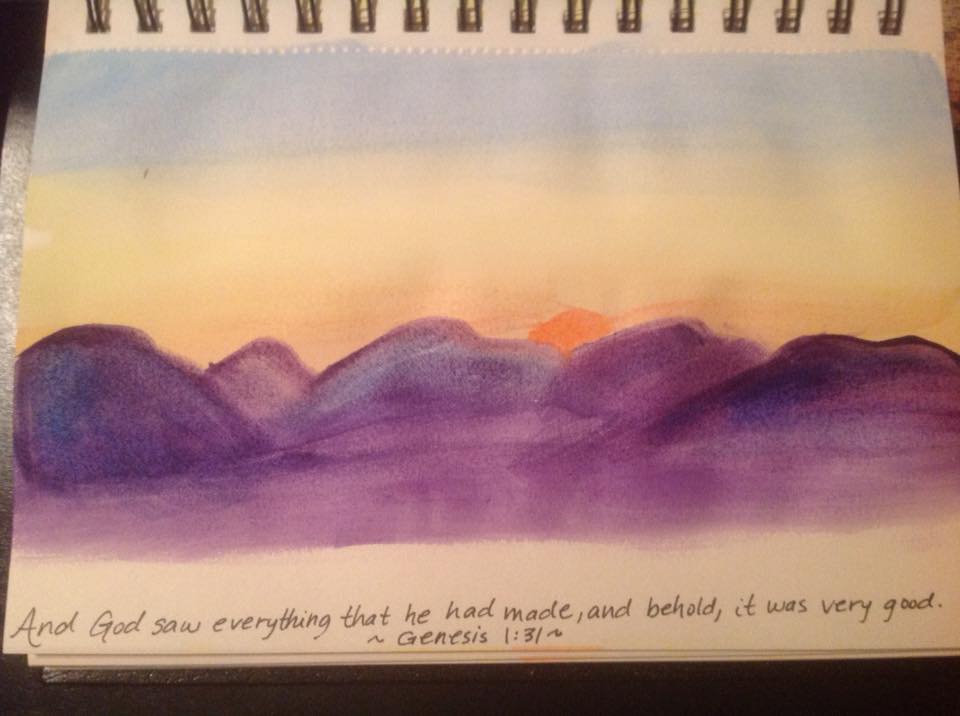 Jill MC
 Wednesday, December 2nd 2015 //  The Tree of Knowledge of Good and Evil

"So when the woman saw that the tree was good for food, and that it was a delight to the eyes, and that the tree was to be desired to make one wise, she took of its fruit and ate, and she also gave some to her husband who was with her, and he ate." (Genesis 3:6)

This was such a difficult verse, but so many people made beautiful art for it! I just loved seeing so many unique and beautiful drawings of the tree, even when many people struggled with ideas for Wednesday's verse. Here are a few lovely ones.
This beautiful art by Jennifer BP has been added to her Bible using washi tape. I love the unique and simple design – this is something I'd love to have hanging in my house!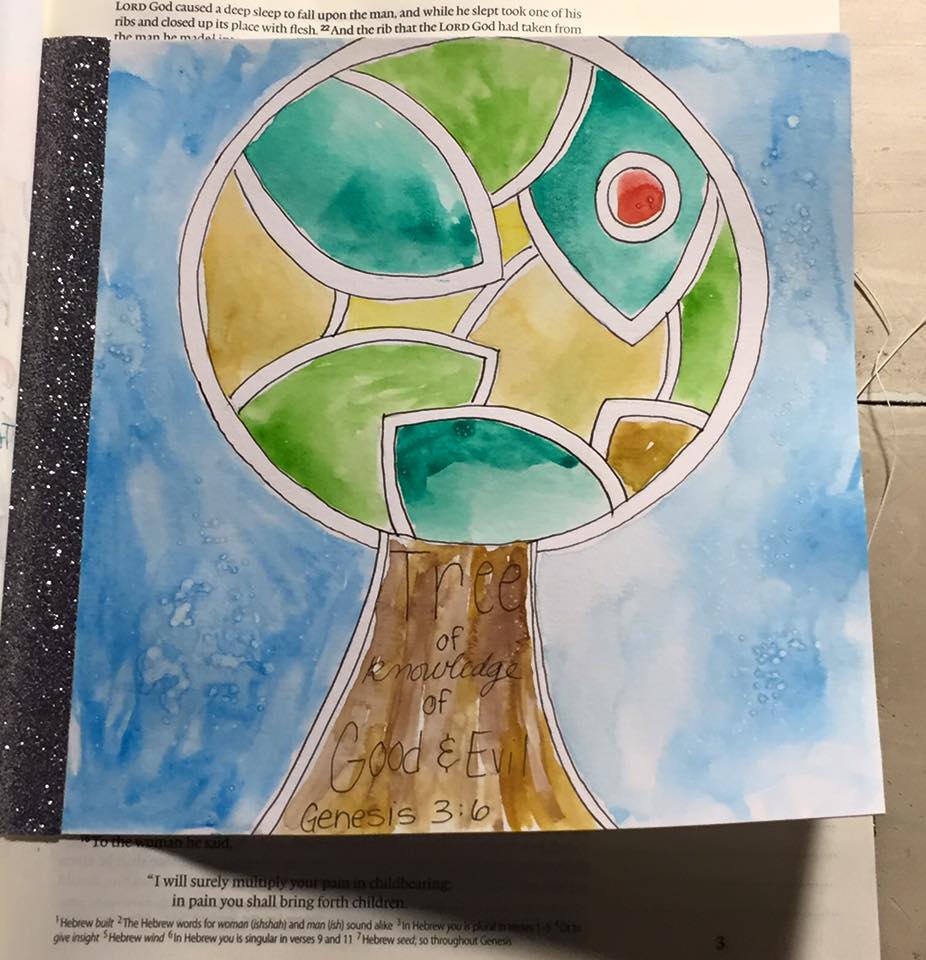 Jennifer BP
I also loved this gorgeous illustration by Leathyr SS. The imagery of the goodness turning into evil with the rainbow gradient was so creative!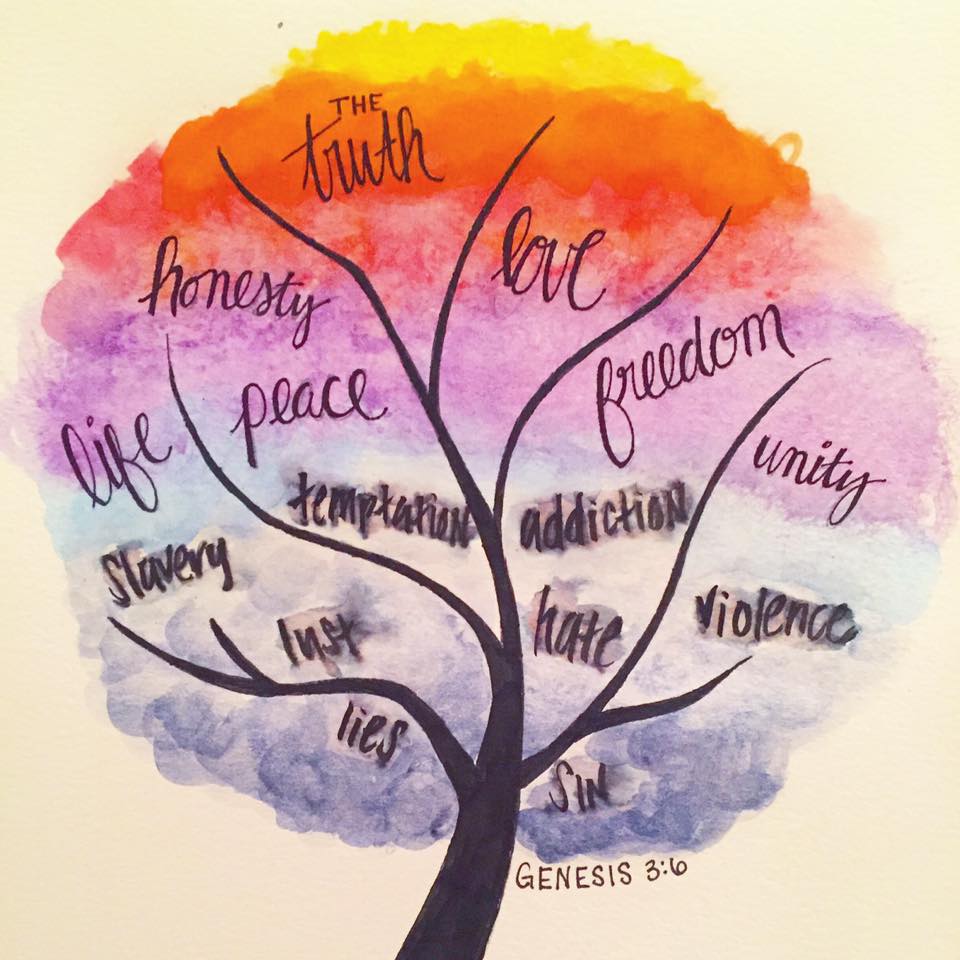 Here is another beautiful interpretation of the verse by Erin N over at RogueNoodle. The imagery is so vivid and really speaks to the darkness and tension in the verse!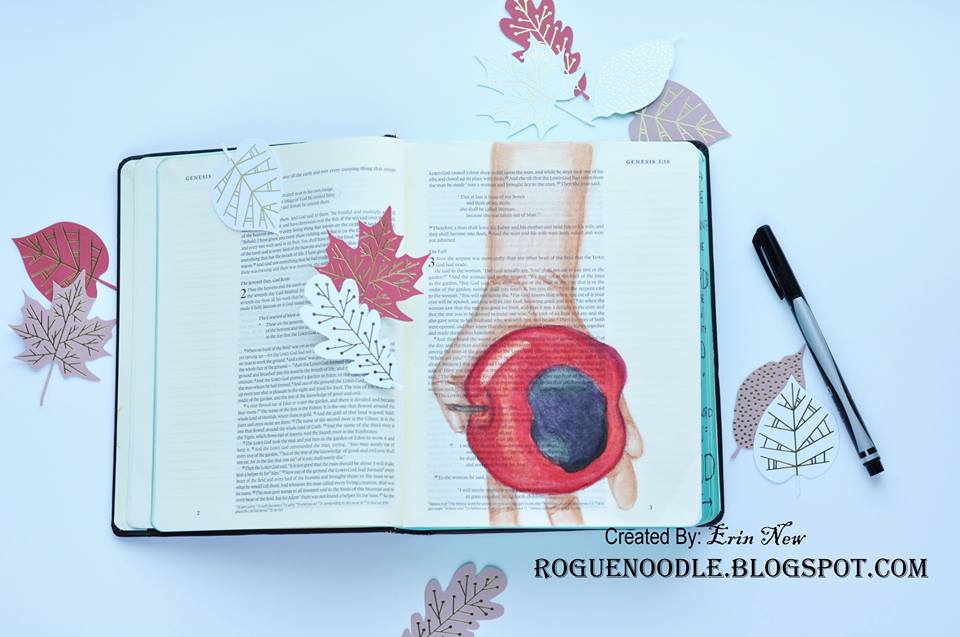 Thursday, December 3rd 2015 //  Immanuel

"Therefore the Lord himself will give you a sign. Behold, the virgin shall conceive and bear a son, and shall call his name Immanuel." (Isaiah 7:14)

Thursdays are our 'looking forward' days, where we step out of the story of the Bible and look towards the birth of Jesus. This Thursday, we focused on the meaning of Immanuel – God with us. There was so much extraordinary artwork to share that I spent ages trying to choose some! In the end, I chose four that each showed the verse in a different way.
This lovely line drawing by Lauren D on Facebook is a great image of Mary with child. I love the simplicity of it, and how just a few lines can convey so much feeling!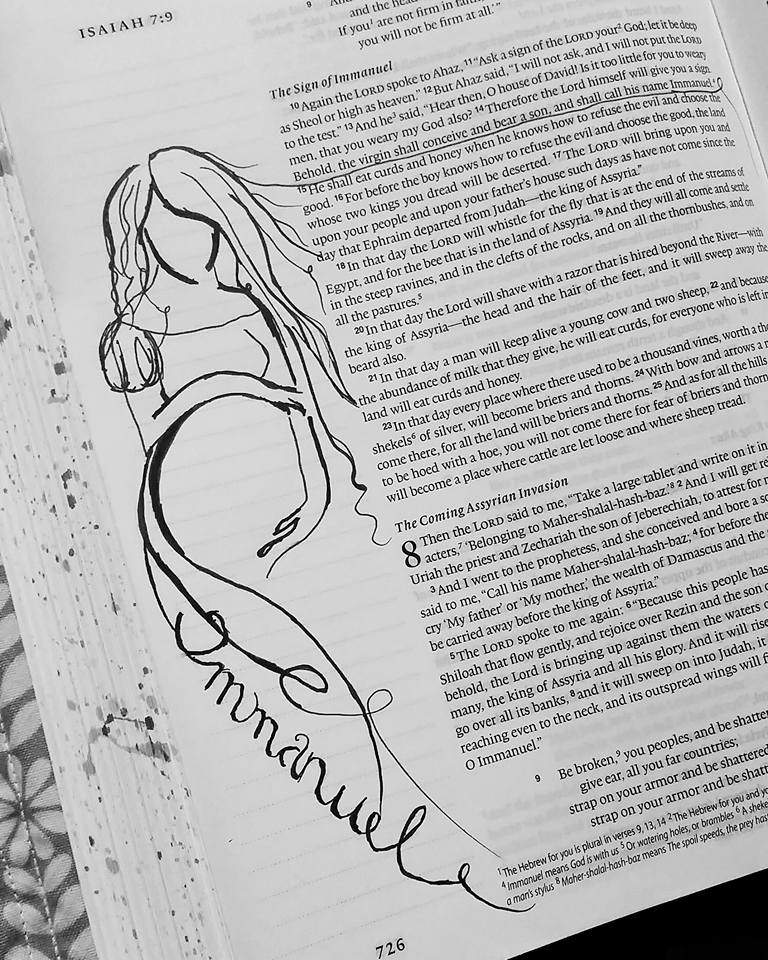 Lauren D
This is a lovely painting of the baby in the manger by Suzanne W on Facebook. I love the rich colors!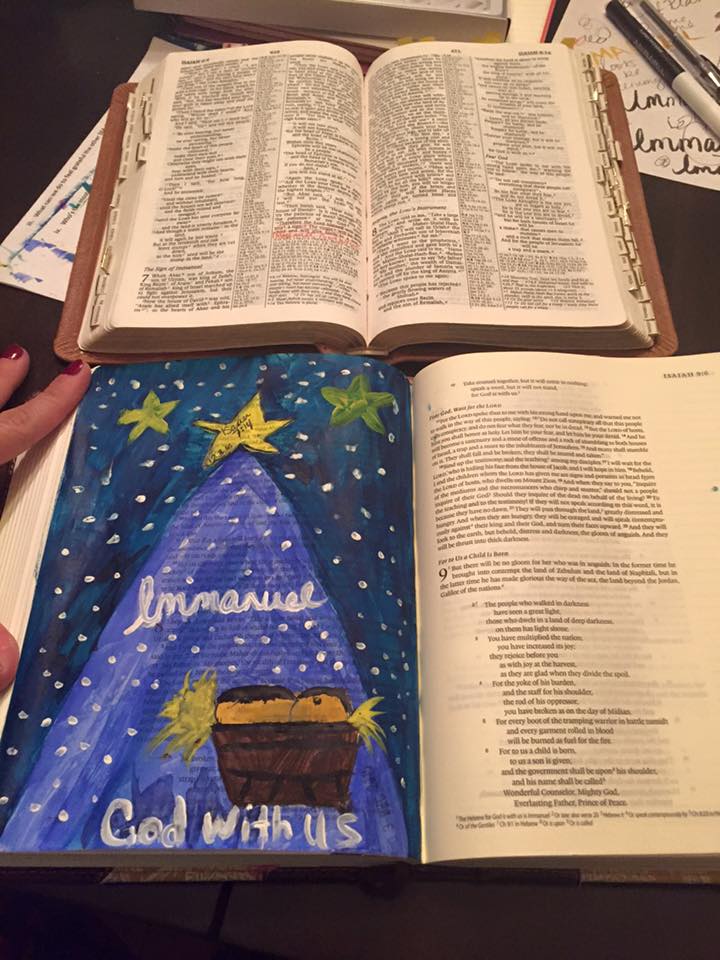 Suzanne W
I was also so stunned by this image by Lisa VS using Celatos. The colors are so bright and vivid, and I love the silhouette of Mary praying.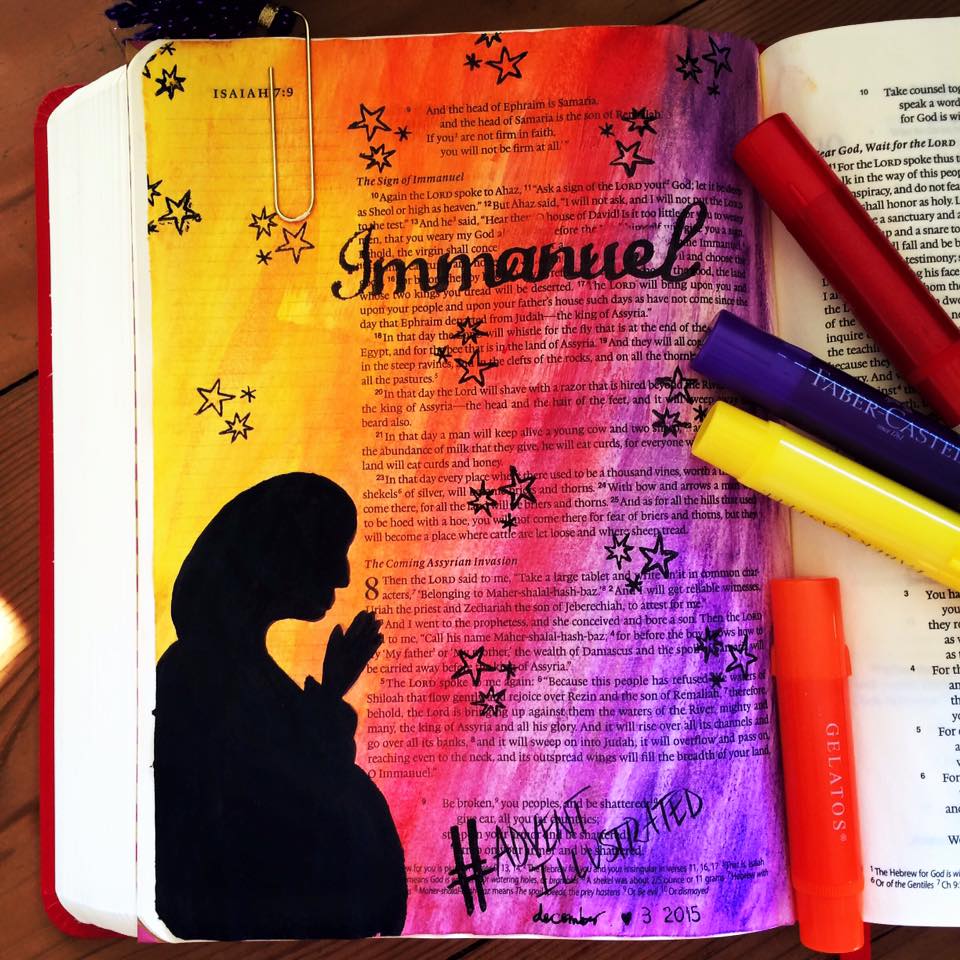 Lisa VS
Finally, I loved this sketch by Julie GB on Facebook. So lovely, and it really gets to the heart of the verse for many of us.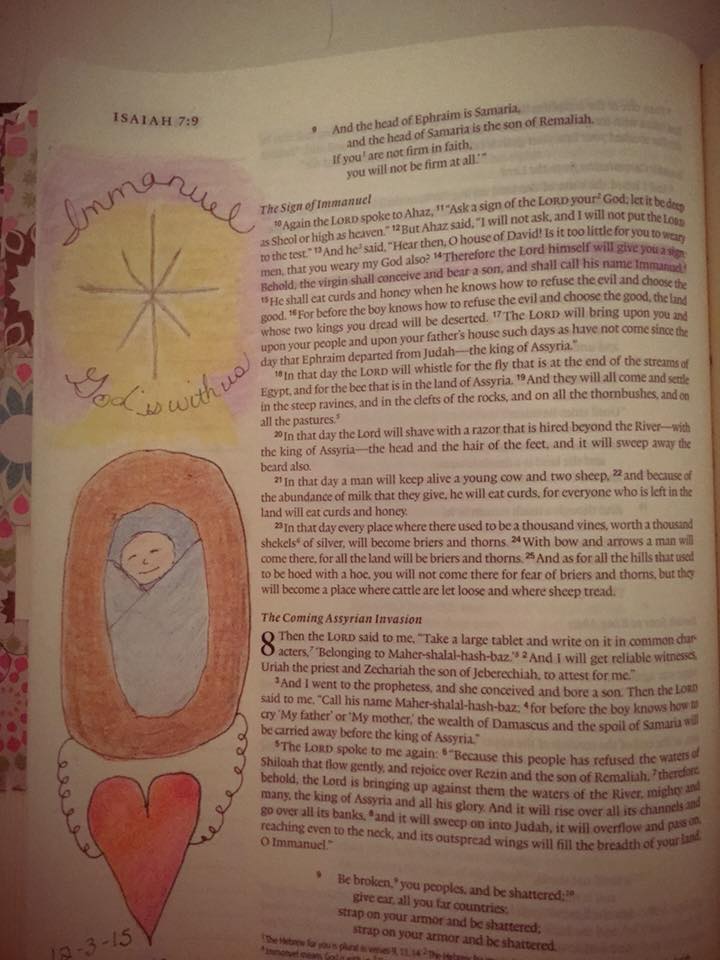 Julie GB
Friday, December 4th 2015 //  Rainbow

"And God said: "This is the sign of the covenant which I make between Me and you, and every living creature that is with you, for perpetual generations: I set My rainbow in the cloud, and it shall be for the sign of the covenant between Me and the earth. It shall be, when I bring a cloud over the earth, that the rainbow shall be seen in the cloud; and I will remember My covenant which is between Me and you and every living creature of all flesh." (Genesis 9:12-15)

There was a little mix-up with this verse (totally my fault!). It was supposed to be Genesis 9:12-15. Nonetheless we still had some beautiful artwork to share!
I just love this splattered paint rainbow by Kristin M. Simple and beautiful!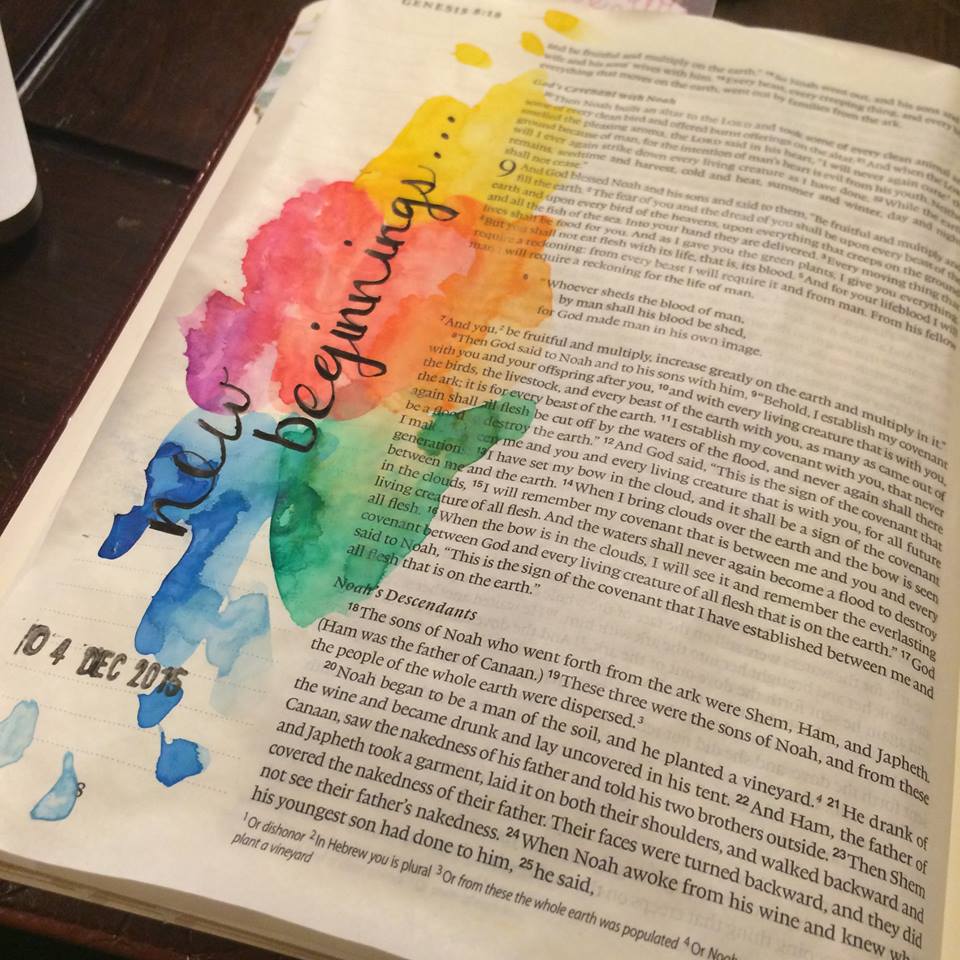 Kristin M
And here is a stunning dove and rainbow by our friend Jen A. What incredible colors and detail!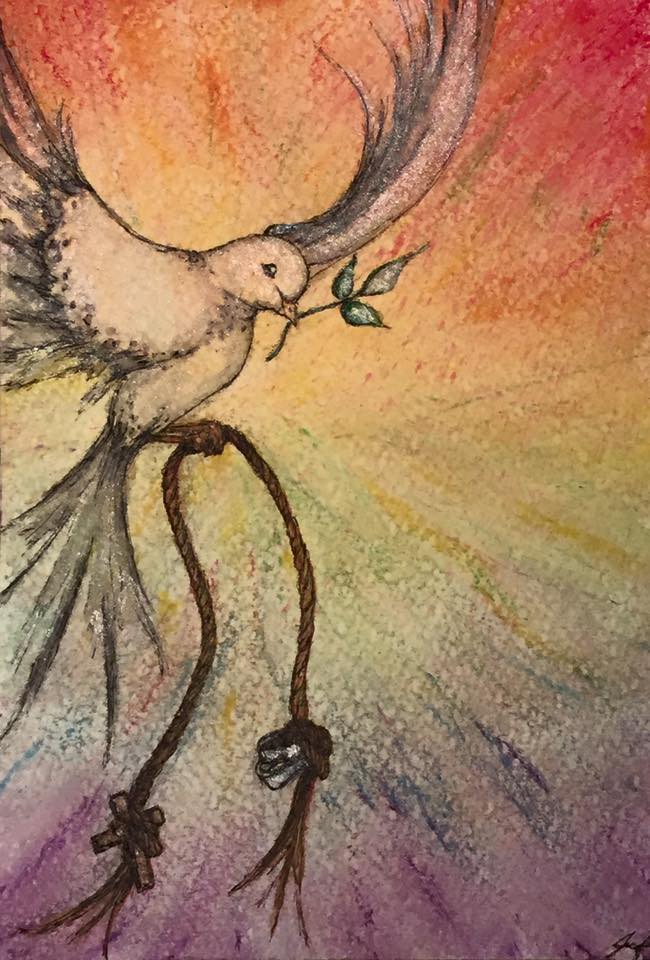 Jen A
Here is another by Tess C. I love the colors and splatter, and her lettering is so beautiful! Well done, Tess!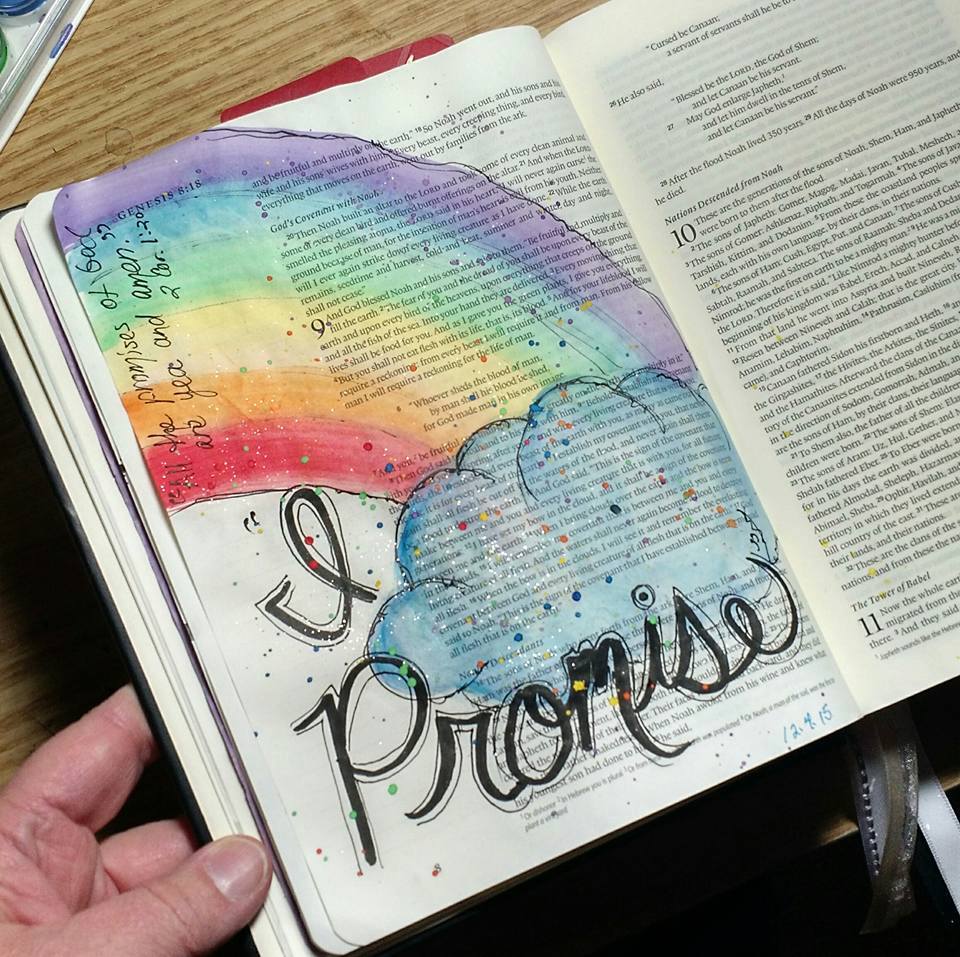 Saturday, December 5th 2015 //  Stars and Sand

"I will surely bless you, and I will surely multiply your offspring as the stars of heaven and as the sand that is on the seashore." (Genesis 22:17)

This is the last verse we did this week, and it is one of my favorite verses from the whole study! Check out these beautiful interpretations of the above text.
What a stunning piece by MamaJohnJohn on Instagram. I love the colors and contrast, and the lettering is lovely!
Next we have a very personal piece by BethKnorr on Instagram, showing some of the stars in her own life. I love the personal touch!
Finally, here is a lovely one by FarrarCreations. I love the colors and vibrancy of the stars against the black!
Wow, what a week it's been! Thank you all for walking alongside me this Advent. It is truly a blessing. Enjoy your grace day, and see you in the group tomorrow!
This content was originally published on Sara Laughed.